FAQ's and Definitions
How is a psychologist different from a psychiatrist?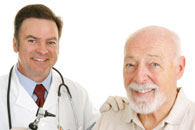 A psychologist has a PhD degree and mainly uses therapy techniques to change behavior. A psychiatrist has an MD degree and uses both pharmacology and therapy to change behavior.
How is a neuropsychologist different from a psychologist?
A psychologist is trained in the assessment and treatment of brain dysfunction in addition to all other forms of psychology. A psychologist is trained mainly in the uses of therapy techniques to change behavior.
What is Medicare?
Medicare is the name of the Federal health care services provided mainly to the elderly, over 65 years old.
What is Medicaid?
Medicaid is the name of the State health care services provided to individuals who are disabled or they are below a certain level of income.
What is dementia?
Dementia is the medical term to indicate loss of mental function due to a neurological cause. Causes can include stroke, Alzheimer's disease, head injury, and over 100 other causes.
How does Neuropsychology test for dementia?
A Neuropsychologist uses scientifically tested and proven measures of cognitive function to localize areas of the brain that are impaired. Tests of attention, memory, language, and other abilities are used to differentiate the multiple possible causes of dementia.
Is Neuropsychological testing a definite test for Alzheimer's disease?
There is no definitive medical test for Alzheimer's disease. However, Neuropsychological testing in combination with other medical procedures, greatly increases the accuracy of the medical diagnosis of dementia.
Is there a cure for Alzheimer's disease?
The current state of the medical knowledge has no cure for Alzheimer's disease.
Definitions
Here are the definitions of some commonly used terms that are used in this site.
Neuropsychology – The field of psychological science that studies the relation between human behavior and the function of the nervous system.
Cognitive Behavior Therapy – The clinical application of behavioral and cognitive psychological principles for the treatment of emotional disorders. Cognitive Behavior Therapy is often used to treat conditions such as depression, anxiety disorders, and behavior problems. In addition, cognitive behavior therapy is the therapy technique that has been scientifically proven to be effective for the treatment of these psychiatric disorders.
Probate Court – The branch of the legal system that deals with disputes that involve individuals estates. One of the areas of responsibility of Probate Court is the determination of elderly individuals who lack the ability to make financial and health care decisions for themselves.
Capacity – Capacity is a legal term to indicate an individuals ability to legally complete some activity. For example, children lack the capacity to make decisions as to their finances and health care. In addition, elderly individuals may lack capacity to make financial and health care decisions based on the impairment of their brain function.
Competency Evaluation – The medical, physical, neuropsychological, and environmental assessment of an individual to aid in a courts decision as to that individual's capacity.
Medicare – The Federal health care system provided for elderly individuals over the age of 65 years.
Medicaid – The State health care system provided for individuals who financial need the health care assistance.
Expert Witness – An individual who appears in court to provide testimony on a particular subject to which they have knowledge.
Neuropsychological Tests – specifically designed tasks used to measure a psychological function known to be linked to a particular brain structure or pathway. They usually involve the systematic administration of clearly defined procedures in a formal environment. Neuropsychological tests are typically administered to a single person working with an examiner in a quiet office environment, free from distractions. As such, it can be argued that neuropsychological tests at times offer an estimate of a person's peak level of cognitive performance. Neuropsychological tests are a core component of the process of conducting neuropsychological assessment.
Most neuropsychological tests in current use are based on traditional psychometric theory. In this model, a person's raw score on a test is compared to a large general population normative sample, that should ideally be drawn from a comparable population to the person being examined. Normative studies frequently provide data stratified by age, level of education, and/or ethnicity, where such factors have been shown by research to affect performance on a particular test. This allows for a person's performance to be compared to a suitable control group, and thus provide a fair assessment of their current cognitive functioning.
Clinical Neuropsychology – a sub-specialty of clinical psychology that specialises in the diagnostic assessment and treatment of patients with brain injury or neurocognitive deficits.
Typically, a clinical neuropsychologist will hold an advanced degree in clinical psychology (in most countries, this requires a doctorate level qualification: Ph.D., Psy.D., or M.D.) and will have completed further studies in neuropsychology, or in some countries, neurology.
In the USA, a neuropsychologist is a clinical psychologist, who, in addition to completing a Doctoral Degree in Psychology, also completes a Clinical Internship (1 year) and specialized post-Doctoral training in Clinical Neuropsychology. Such post-Doctoral training (i.e. Fellowship/Residency) currently ranges from 2 to 4 years. Neuropsychologists use models of brain-behavior relationships to determine whether expected neurobehavioral function has changed to a degree that is consistent with impairment. Such relationships are demonstrated through the interpretation of performance that is derived from a variety of specialized assessment procedures. Thus, the domain of neuropsychologists is expressed brain function: for example, reasoning/problem-solving, learning/recall processes, selective attention/concentration processes, perception, sensation, language processes, controlled/directed movement processes. Serial neuropsychological examinations may be used to monitor deteriorating neurobehavioral performance (as with dementing disorders) or to monitor improving neurobehavioral function (as during the recovery after an acquired brain injury or in response to pharmacological or surgical intervention).
What distinguishes a clinical neuropsychologist from other clinical psychologists is an extensive knowledge of the brain, including an understanding of areas such as: neuroanatomy, neurobiology, psychopharmacology, neurological illness or injury, the use of neuropsychological tests to accurately assess cognitive deficits, and the management, treatment and rehabiliation of brain injured and neurocognitively impaired patients.
Clinical neuropsychologists perform a number of tasks, usually within a clinical setting. They are often involved in conducting neuropsychological assessments to assess a person's cognitive skills, usually after some sort of brain injury or neurological impairment. This may be for the purposes of planning treatments, to determine someone's neurocognitive functioning or mental capacity (often done for presentation as evidence in court cases or legal proceedings) or to detect changes over time.
A clinical neuropsychologist's typical caseload may include people with traumatic brain injury (TBI), cerebrovascular accidents (CVA) such as stroke and aneurysm ruptures, brain tumors, encephalitis, epilepsy/seizure disorders, dementias, mental illnesses (e.g. schizophrenia), and a wide range of developmental disorders, including attention-deficit/hyperactivity disorder (ADHD), learning disabilities, autism and Tourette's syndrome.
Clinical neuropsychologists' training has included methods of psychotherapy and counseling. They can also provide therapeutic services to patients in need of education and emotional support concerning their neurological injuries or illness.
Many clinical neuropsychologists are employed by medical schools and hospitals, especially neurology, psychiatry, and rehabilitation facilities. Some work in private practice. They are frequently active in teaching at the university level and conducting research into a wide range of issues concerning human brain-behavior relationships. Some clinical neuropsychologists are also employed by pharmaceutical companies to help develop and test neuropsychological assessment tools for use in clinical trials.
The practice of cognitive neuropsychology and cognitive neuropsychiatry involves studying the cognitive effects of injury or illness to understand normal psychological function. Because of their day-to-day contact with people with brain impairment, many clinical neuropsychologists are active in these research fields.
Senior NeuroPsych Associates
PO Box 396
Saginaw, TX 76179
PH: 817-750-1237
FX: 817-750-1237
admin@seniorneuro.com.