Testimonials
Client Testimonials – Many of our clients have great testimonials to what the application of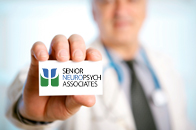 NeuroPsychology can do in the treatment of their loved ones. We have included a collection of testimonials to show how accurate, effective diagnosis and treatment can be beneficial to improving or maintaining "quality of life" for most clients. If you have a testimonial you would like for us to include, please use the Contacts page to send it to us.
Professional Testimonials – Our reputation within the elder care community has been well established. Accordingly, we have included testimonials from organizations and doctors that we work with on a regular basis. Many professionals refer clients to us based on the results we are to provide. A common point among many of them is our promptness in preparing and submitting of our assessments for the cases they refer to us.
Peer Testimonials – It is what a professionals peers say about an organization and it's staff that tell you a lot about how it is regarded in the professional community. Our "peer" testimonials give you insight as to how we are regarded by them.